Recently, I was given the opportunity to review Truth in the Tinsel, a new, advent resource for families. This e-book was written by Amanda White, who shares great ideas and insights at her blog, Impress Your Kids.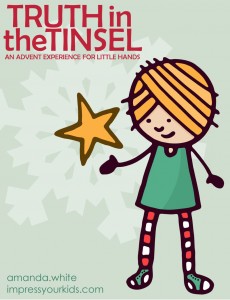 After reading it over, I'm so excited for the month of December to arrive, so that I can start these activities with my girls! It's such a great way to explore the Christmas story with young children. And I'm always looking for easy-to-use resources for our home, as well as in the children's ministry at my church; this e-book fits the bill.
You know those craft books that are supposed to be used with kids, but are so complicated that you need a degree in fine art to complete them?
This is not that book.
You know those projects that require a list of 47 art supplies, that must be purchased from a specialty store?
This is not that project.
You know those devotions that last about 17 minutes longer than your child's attention span?
This is not that devotional.
But here's what it IS:
Truth in the Tinsel
is a
real
resource...for
real
moms...with
real
children. I love that the author provides the supply list, but also lets you know that you can use what you have on hand and substitute items as needed. I love that Amanda gives options about how to use this resource for all 24 days, but also gives alternate schedules for use over a shortened time-frame. I love that just reading it sparked my own creativity, and gave me ideas about how to use these projects with my own kids.
This book includes easy-to-follow instructions for making an ornament each day, representing a part of a the Christmas story. It also provided "talk about it" prompts to discuss with your kids, as well as expansion ideas, to keep the learning going. This advent experience will definitley be a part of our Christmas preparations.
-----
If you'd like to purchase this book and begin enjoying it with your own children, visit the
Truth in the Tinsel website
. There is also a
Truth in the Tinsel Facebook page
, where you can share your advent experiences with others. (The book is regularly $4.99, but on Black Friday, it's on sale for $2.99!) Please check it out...you won't be disappointed.
Disclosure: I was given an advanced copy of Truth in the Tinsel for review purposes. The opinions expressed in the post are entirely mine.